Manchester Electrical Energy and Power Systems (MEEPS) workshop, Manchester – November 2017
MEEPS (Manchester Energy and Electrical Power Systems) is the biggest yearly workshop organised by The IEEE Student Branch Power and Energy (PES) Chapter at the University of Manchester. This year, the workshop which is titled "Big Data Applications in Power Systems" was held from 09:00 – 17:00 on 3rd November, 2017 in  a new home at the Manchester Conference Centre, Sackville Street, Manchester, M1 3BB.
YP Involvement
This year's MEEPS was organised in collaboration with the IEEE UK & Ireland Young Professionals. The YP also sponsored a £100 prize award to recognise research with the most potential to be converted into a product. Seven participants submitted abstracts on how their research can be adopted by industry (i.e., how their research can be made into a product and/or how industry can improve industry practice given information from their research).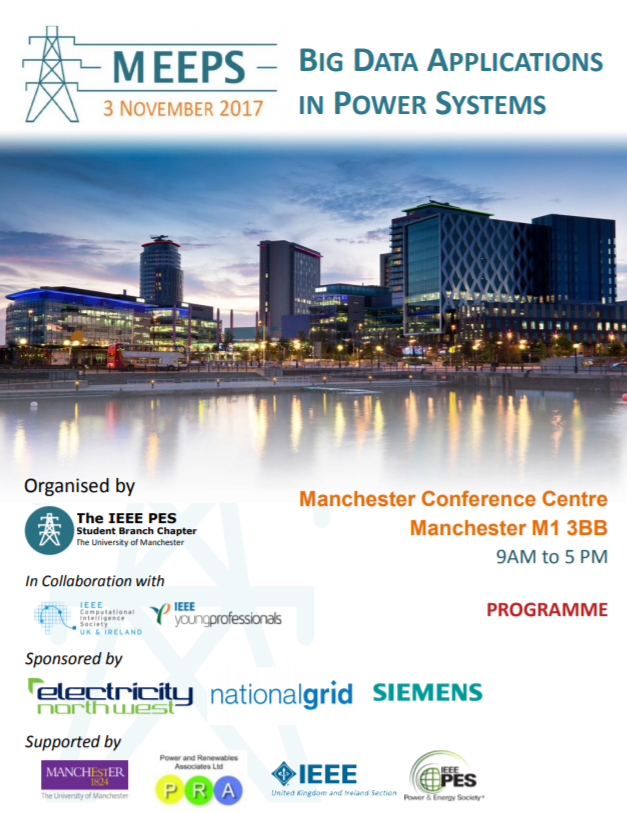 The event was opened by the main keynote speaker, Prof. Vladimiro Miranda of INESC TEC Porto and Professor at University of Porto, Portugal. Other keynote speakers included Natalia Burton (Senior Analytics Consultant working with OMNETRIC Group, a Siemens and Accenture company), Sam Young (s Analytics Development Leader within the Electricity Transmission Operator (ETO) business, National Grid), Christos Kaloudas (development of methodologies and tools at Electricity North West), and Dr Xiong Yu (Consultant for UK TNO and DNOs and also worked for Southern China Grid).
The event focused on three sub-categories of:
Big Data Tools and Methods
Big Data Applications in Decision Making
Big Data Applications in Distributed Systems
The event was a huge success and was attended by about 60 delegates from industry and academia. See photos of the event here.